AWARDS BANQUET
Thursday, October 11
19:00–Late
Elafiti Conference Hall
The highlight of the conference week is the banquet on Thursday night where attendees gather to honor ocean optics community award recipients. After dinner is served, a performance by a local Croatian group will take place, followed by presentations of the Jerlov Award and Best Student Paper Award. The evening will conclude with dancing with live music provided by Teatar, a local Dubrovnik rock/pop/dance band.
The Jerlov Award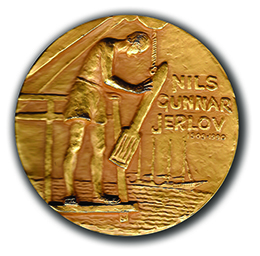 The Jerlov Award will be presented to a member of the scientific community for outstanding achievements made to the advancement of our knowledge of the nature and consequences of light in the ocean.
About the Award. Nils Gunnar Jerlov was an early leader in the area of ocean optics research. His name is recognized widely within the entire international oceanographic research community. Jerlov's theoretical and experimental work on ocean optical and related processes helped form the foundation of modern ocean optical research. He proposed the concept of an optical ocean water mass classification and the Jerlov water types are familiar to many outside of the ocean optics community. His book, Marine Optics, published in 1976, remains widely referenced and is considered required reading for all students of ocean optics and ocean color remote sensing. The Oceanography Society (TOS) commemorates Dr. Jerlov and his many contributions to the study of light in the ocean with an international award, established in his name. For more information visit: https://tos.org/jerlov-award.
Best Student Paper Award
The OOXXIV Planning Committee selects the winner of this award based on a review of extended abstracts. The winner of this award will receive a check for $500, a certificate, and will have their name added to the plaque recognizing previous recipients.
Best S

pea

ker and Best Poster Awards

All attendees are able to cast their vote for the best oral presentation and the best conference poster. All presentations (except for invited plenary presentations) and posters are eligible to receive a vote. The winners of the Best Speaker Award and Best Poster Award will receive certificates, and their names will be announced to all conference attendees after the conclusion of the conference.
Please be sure to view posters during the Monday–Thursday poster sessions. Voting instructions for both of these awards will be
provided during registration. All votes must be cast by Friday, October 12, at 16:00.