News and Announcements
The conference Planning Committee met in late May and made great progress toward planning an exciting event. Read the latest developments below:
1. General Conference Schedule Posted
A week of activities featuring four poster sessions and additional oral sessions has been planned. Click here to see the general schedule for the week. More details will be be provided as they become available.
2. Plenary Speakers Confirmed
A complete line up of terrific speakers has been confirmed:
Annick Bricaud | Laboratoire d'Océanographie de Villefranche
Gene C. Feldman | NASA Goddard Space Flight Center
Miroslav Gacic | 

Istituto Nazionale di Oceanografia e di Geofisica Sperimentale

Michael Twardowski | Harbor Branch Oceanographic Institute 
Meike Vogt | Institute for Biogeochemistry and Pollutant Dynamics, 

ETH Zürich
3. Short Courses, Town Halls, Workshops and other Events
Several short courses have already been confirmed for the weekend before the conference begins: 
ACOLITE: Landsat and Sentinel High Resolution Processing

Algorithm Metrics

SeaDAS
Please visit this page for more information about submitting a request for event space.
4. Hotel Rate Survey
We're working diligently to obtain reasonable room rates at the Valamar Dubrovnik Hotel. To help in this effort, please answer the four questions in this survey about your plans for attending the conference.
5. Tell your colleagues!
We've created a small poster that you can print and post on your department bulleting board or forward to your colleagues. Click here to download the poster and help us spread the word about the conference!
Sincerely,
Ivona Cetinic                        Cédric Jamet
Conference Co-Chair          Conference Co-Chair 
Conference Flyer
Download, print, post, or pass along the conference flyer.
Available in pdf format in two dimensions » 8.5 x 11 inch | A4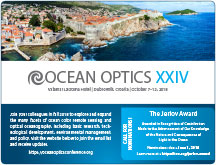 Community Notices
Items of interest to the ocean optics community will be posted here. Please submit requests to Jenny Ramarui.
IOCCG Summer Lecture Series 2018

Frontiers in Ocean Optics and Ocean Colour Science
25 June – 7 July 2018
Villefranche-sur-Mer, France

The 2018 IOCCG Summer Lecture Series, dedicated to high-level training in the fundamentals of ocean optics, bio-optics and ocean colour remote sensing will take place at the Laboratoire d'Océanographie de Villefranche (LOV), France from 25 June – 7 July 2018. Prospective students can apply online here (deadline 5 March 2018).
Postdoc Opportunity: WHOI Marine Chemistry & Geochemistry Department

Ken Buesseler is seeking a Postdoctoral Investigator to join his team in spring 2018 as part of the EXPORTS program.  The applicant will play a major role in the collection of size-fractionated particles and there analyses for major flux components and other tracers of the biological pump processes.  Participation in all aspects of this multi-disciplinary program, including field work at sea, is expected.  Applications will be considered starting Feb. 1, 2018.  Please click here for more details.
EXPORTS Field Campaign
The National Aeronautics and Space Administration (NASA) solicited proposals addressing the research needed to begin Phase I of the EXport Processes in the Ocean from RemoTe Sensing (EXPORTS) field campaign – a large-scale field campaign that will provide critical information for quantifying the export and fate of upper ocean net primary production (NPP) from satellite observations. The overarching goal of EXPORTS is to develop a predictive understanding of the export and fate of global ocean NPP and its implications for the Earth's carbon cycle in present and future climates. Proposals were requested for research investigations in three main research areas:
1.  Development and Analysis of Remote Sensing Data Products,
2.  Collection and Analysis of Field-based (in situ) Data, and
3.  Development, Incorporation and Analysis of Data Assimilation Experiments and Models.
In addition, the EXPORTS Science Lead position was also competed as part of the solicitation.
The investigations recommended by NASA for support are can be found here.
General information about the EXPORTS field campaign program is available here.
Further information concerning the measurement suite supported by NASA and potential berthing opportunities on the EXPORTS Northeast Pacific Ocean field campaign will be provided at above website shortly.
An open competition for Phase II of the EXPORTS program is anticipated in the 2020 timeframe.
Please direct any questions to Paula Bontempi (paula.bontempi@nasa.gov) or Laura Lorenzoni (laura.lorenzoni@nasa.gov).
Ocean Optics Logo
Print files » pdf | jpg
Onscreen files » large png | medium png | small png