News and Announcements

Registration and Hotel Reservation Systems Remain Open!
The abstract submission deadline passed on May 7, 2018, but it is still possible to register and participate in the conference as an attendee. Please follow this link for registration and this link for the hotel reservation system. Over 300 abstracts were received, and the planning committee will review them over the next several weeks. Notifications regarding assignment as either an oral or poster presentation will be made by the end of June.
General Conference Schedule Posted
A week of activities featuring four poster sessions and additional oral sessions has been planned. Click here to see the general schedule for the week. More details will be be provided as they become available.
Meeting Poster
We've created a small poster that you can print and post on your department bulletin board or forward to your colleagues. Click here to download the poster and help us spread the word about the conference!
Conference Flyer
Download, print, post, or pass along the conference flyer.
Available in pdf format in two dimensions » 8.5 x 11 inch | A4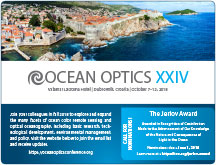 Ocean Optics Logo
Print files » pdf | jpg
Onscreen files » large png | medium png | small png

Communi

ty Notic

es

Items of interest to the ocean optics community will be posted here. Please submit requests to Jenny Ramarui.
Post Doctoral fellow in Satellite Oceanography/Ocean Colour
The research activities for this position will be part of the COPERNICUS project's CMEMS Ocean Color Thematic Assembly Centre (TAC). The winner candidate will be employed in satellite ocean color data production, validation and distribution to users, as well as the development of new ocean color algorithms for e.g., new spaceborne sensors.
Location: CNR-ISAC, Rome, Italy
Contract Duration: one year, renewable
Salary: 26.000,00 Euro per year, pre-tax pay Qualifications and Experience:
– optical oceanography, satellite oceanography, ocean color remote sensing – a PhD (minimum three years long) in either Mathematics Physics, Biology, Geophysics, Marine Science, Environmental Science, Earth Science or Remote Sensing.
– a minimum two -year experience in either optical oceanography, satellite oceanography, ocean color remote sensing, to be documented by scientific publications – documented experience in: satellite data processing and/or  bio-optical analysis, ocean color remote sensing, ocean color algorithm development, satellite data validation/calibration – documented knowledge of at least one among the following programming languages: IDL, MATLAB, python, Fortran, C, preferably in Linux environment. The knowledge SeaDAS and SNAP is a bonus. Click here to learn more and apply. Deadline for Applications: 4 July, 2018
Post-Doc Opportunity at NASA Goddard Space Flight Center
One-year Post-Doctoral position within the Ocean Ecology Laboratory (Code 616) at NASA Goddard Space Flight Center to support PACE Project Science, the PACE Science Data Segment (SDS), and the Ocean Biology Processing Group (OBPG) and their roles in producing, evaluating, and distributing bio-optical and biogeochemical properties from satellite ocean color data records. This position will specifically focus on processing and evaluation of existing field oceanographic data with the goal of developing and improving satellite methods for derivation of metrics related to phytoplankton community composition and particle size distributions. Click here to learn more and apply.
Introduction to Aquatic Flow Cytometry Course
September 17-21, 2018
Bigelow Laboratory for Ocean Sciences
East Boothbay, Maine, USA
Detailed course information and registration instructions available here.
This course is organized by Dr. Nicole Poulton, Director of the J.J. MacIsaac Facility for Aquatic Cytometry and will include additional lecturers who are experts within their fields. Registration is limited to 10 participants.
The 5-day course will include both lecture and laboratory sessions, and provides aquatic and environmental scientists and/or commercial entities an introduction to flow cytometry, including the theory of operation as well as an introduction to different flow cytometric instrumentation – analyzers (BD and BioRad) and cell sorters (BD Influx and BC Moflo Legacy) including imaging cytometry (FlowCAM).  Breakfast and lunch are provided each day and the course will also include one group dinner. Lodging is included with the course fees on our campus at our new residence hall (2017).
Throughout the week topics will include discussions on the wide number of applications within the aquatic sciences including, but not limited to:
Culture & Environmental sample enumeration (viruses, bacteria, phytoplankton and heterotrophic protists), including preservation techniques.
Cell Sorting for Biogeochemical analyses (C, N, & P)
Cell sorting for isolation and cultivation from aquatic and environmental samples.
Single cell sorting for whole genome amplification (WGA) and genome analysis.
Imaging Cytometryfor aquatic applications (using FlowCAM).
Course Instructors include:
Nicole Poulton, Ph.D. – Director of Aquatic Cytometry
Ger van den Engh, Ph.D. – Marine Cytometry
Ramunas Stepanauskas, Ph.D. – Director, Single Cell Genomics Center
Joaquin Martinez-Martinez, Ph.D. – Marine Virology
Kristen Reifel, Ph.D. –  Battelle National Biodefense Institute – Biosafety
Laura Lubelczyk
Bigelow Laboratory for Ocean Sciences investigates the microbial drivers of global ocean processes through basic and applied research, education and enterprise.  Research at Bigelow Laboratory is organized around three core themes, Blue Biotechnology, Ocean Biogeochemistry and Climate Change, and Ocean Health.  In 2012, the Laboratory's 60,000 sq ft, shore-based campus in East Boothbay, Maine became the first LEED Platinum building in Maine and one of seven in the New England area.
Please forward this information on to anyone interested in learning aquatic flow cytometric techniques in a laboratory-intensive week-long course on the coast of Maine this fall. For questions or additional information, or specific aquatic application requests, please contact Facility Director, Dr. Nicole Poulton at npoulton@bigelow.org.

Obitua

ry for M

arcel Robert Wernand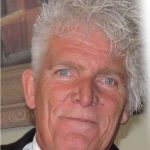 With great sadness, we have to inform you that Marcel Wernand passed away peacefully on Friday, March 30th 2018. Marcel was suffering from Amyotrophic lateral sclerosis (ALS), yet he kept up his good spirit and self-determination to the end.
Dr. Wernand was a marine optics expert at the Netherlands Institute for Sea Research (NIOZ) for forty years. He received a degree on Polytechnics in Math and Physical Engineering (COVALU Utrecht, The Netherlands) in 1974 and a PhD in Physics from University Utrecht in 2011. His research focus was on the study of the bio-optical variability of coastal seas and oceans using multi- and hyperspectral inherent and apparent optical properties measurements at sea and from space. Many of these instruments he designed and built himself. He developed water quality algorithms for long term monitoring using remote sensing measurements.
In 2004, he was the recipient of the Ocean Optics Conference Best Speaker's Award (golden bell). For him, the Ocean Optics community was his scientific family and he gave another well-received presentation at the last Ocean Optics XXIII conference in 2016 in Victoria, BC, Canada, promoting the link between historic observations of ocean color and modern satellite data.
Marcel was dedicated to explaining ocean color to the public. He produced several videos explaining ocean color and its variability in time and space. As part of an larger Citizen Science project, he also co-produced the EyeOnWater-App that allows the public to share ocean color measurements based on the Forel-Ule scale using a cell phone. He also studied the history of ocean color observations from the earliest explorers to the present. He presented these in Clarity on the Sea, an e-book with a very extensive bibliography.
In addition to his scientific endeavors, Marcel was a playwright and actor, a renaissance man with wide ranging interests. Above all Marcel was a warm-hearted, humorous person who lit up any gathering with his presence.
He will be missed.
– Ron Zaneveld and Oliver Zielinski
Postdoc Opportunity: MBARI Marine Biogeochemistry Program
The Marine Biogeochemistry Program at the Monterey Bay Aquarium Research Institute (MBARI) is currently seeking a postdoc to join the team. This is term position with an expected duration of one year, with possible extensions. The postdoc will work on an NSF funded project that is integrated with the NASA Exports Processes in the Ocean from Remote Sensing (EXPORTS) mission. The goal of the project is to improve understanding of the biological carbon pump and its predictability from remote sensing. Click here to learn more.
Postdoc Opportunity: WHOI Marine Chemistry & Geochemistry Department
Ken Buesseler is seeking a Postdoctoral Investigator to join his team in spring 2018 as part of the EXPORTS program.  The applicant will play a major role in the collection of size-fractionated particles and there analyses for major flux components and other tracers of the biological pump processes.  Participation in all aspects of this multi-disciplinary program, including field work at sea, is expected.  Applications will be considered starting Feb. 1, 2018.  Please click here for more details.
EXPORTS Field Campaign
The National Aeronautics and Space Administration (NASA) solicited proposals addressing the research needed to begin Phase I of the EXport Processes in the Ocean from RemoTe Sensing (EXPORTS) field campaign – a large-scale field campaign that will provide critical information for quantifying the export and fate of upper ocean net primary production (NPP) from satellite observations. The overarching goal of EXPORTS is to develop a predictive understanding of the export and fate of global ocean NPP and its implications for the Earth's carbon cycle in present and future climates. Proposals were requested for research investigations in three main research areas:
1.  Development and Analysis of Remote Sensing Data Products,
2.  Collection and Analysis of Field-based (in situ) Data, and
3.  Development, Incorporation and Analysis of Data Assimilation Experiments and Models.
In addition, the EXPORTS Science Lead position was also competed as part of the solicitation.
The investigations recommended by NASA for support are can be found here.
General information about the EXPORTS field campaign program is available here.
Further information concerning the measurement suite supported by NASA and potential berthing opportunities on the EXPORTS Northeast Pacific Ocean field campaign will be provided at above website shortly.
An open competition for Phase II of the EXPORTS program is anticipated in the 2020 timeframe.
Please direct any questions to Paula Bontempi (paula.bontempi@nasa.gov) or Laura Lorenzoni (laura.lorenzoni@nasa.gov).